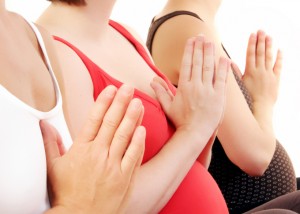 Pregnancy or Prenatal Yoga is a gentle form of Hatha Yoga modified and adapted specifically for woman who are pregnant. Its practice seeks to help increase confidence, strength, and flexibility and to help build up the extra stamina necessary to cope with the physical, mental and emotional demands of labour and birth as well as those of early motherhood.
Pregnancy yoga involves gentle physical movements and/or postures; breathing exercises; relaxation techniques and meditation practices. The classes are tailored to ensure safe practice routines for both mother and baby. The gentle postures (derived from classic Yoga Asana) work on strengthening those areas of the body that experience extra tension or pressure during labour and birth.
Hormonal changes occur almost from the moment of conception and these changes affect the body in a variety of ways throughout the pregnancy. Shifts in hormonal levels can lead to a loss of equilibrium and calm and Pregnancy Yoga therefore seeks to restore and maintain physical and emotional balance and promote harmony in body, mind and spirit during pregnancy.
The first trimester lasts from conception to approximately 12 weeks and it is essential that great care is taken during this time to ensure the stability of the pregnancy. Rest and relaxation are recommended until energy levels return to normal.
Pregnancy yoga should not commence until the beginning of the second trimester (approximately 12 weeks after conception), or later, and may continue until the end of the pregnancy.
During the second trimester the body begins to regulate itself and energy levels tend to rise. The practice of yoga helps alleviate the stress and tension often experienced by expectant mothers at this time and gradually improves posture and increases stamina in preparation for labour and birth. The gentle poses and movements used in practice ease and release the joints and tone the muscles (including the pelvic muscles) both of which play so vital a role during labour and at time of delivery. It is critical that expectant mothers do not overstretch during practice as the ligaments around the joints in the body tend to soften during pregnancy.
The pace of practice should be extremely gentle and measured during the third and final trimester with emphasis on focus and breathing, relaxation techniques and meditation practice.
Pregnancy Yoga promotes focus and control in both mind and body through the use of the 'breath'. The breathing exercises encourage the release of endorphins. These are neurotransmitters produced in the brain which help reduce pain and promote feelings of well-being and calm. Pregnancy Yoga classes help the mother-to-be to explore a variety of 'birth' positions/postures. These positions, in conjunction with the breathing techniques learned and practiced over a number of weeks, can greatly help to manage and to cope with the contractions during labour and at time of delivery.
The classes are suitable from 12 weeks until the end of your pregnancy and you can join at any stage during the course of classes.
Pregnancy yoga class gives you the opportunity to take time out to relax, to restore and to connect with your baby.
No previous yoga experience is necessary.
Next 5 week Pregnancy Yoga course starts
Wednesday 12th February in Kenpo Karate Centre, Trim at 7pm
Navan Rugby Club, Tuesdays at 6pm (Contact Naomi 0868386048)
Contact me or register online, or Follow Us on Facebook

Classes will be lead by Naomi
Click Add to Cart to purchase a 5 week course for €50.