Baby Massage is a wonderful way to connect with your baby through the power of touch. Touch is one of the most nurturing and beneficial early experiences your baby will have. The first form of communication that you have with your baby is through touch. Baby massage classes provide you with the opportunity to bond with your baby through the sense of touch, eye-to-eye contact and communicating with facial expressions and cues.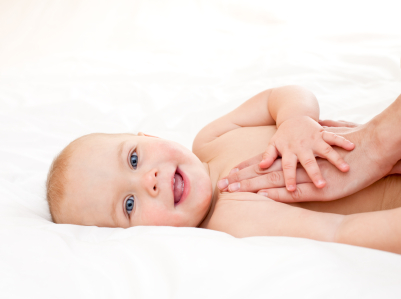 Baby massage has been around for hundreds of years and practiced by many cultures throughout the world. It has now become even more popular in the West and here in Ireland due to Vimala McClure who founded the International Association of Infant Massage. Vimala learned about the wonderful benefits of infant massage while she worked in India and saw mothers in even the most poverty stricken areas massaging their babies as part of their daily routine. The positive touch of massage allowed these babies to experience tremendous love and a sense of security.
Baby Massage provides numerous physical, psychological and emotional benefits for babies and those who care for them. Apart from the many benefits of baby massage it is a great way to spend quality time with your baby and to meet and chat with other parents.
The Baby Massage is suitable for babies from the age of 6 weeks to 6 months.
The massage sequence which includes elements of Swedish massage, Reflexology and Yoga is demonstrated on a doll while you give your baby a thorough massage, focusing on a different area each week. Oils and handouts are provided for the class.
Click Here to hear what one of our Mums had to say about our class.
Benefits of Baby Massage
Helps to relieve colic, wind and constipation.
Boosts baby's immune system
Promotes bonding between parent and baby
Helps baby sleep better.
Aids digestion
 Improves skin condition
Helps to alleviate the effects of postnatal depression
Baby massage is available privately, please  Contact me to register.