Clodagh
"Yoga is a light, which once lit, will never dim. The better your practice, the brighter the flame."
B.K.S. Iyengar
ABOUT Clodagh
My Classes:
Tuesday @ 7:30 pm | Vinyasa Yoga
Sunday @ 9:00 am | Warm & Relaxing Stretch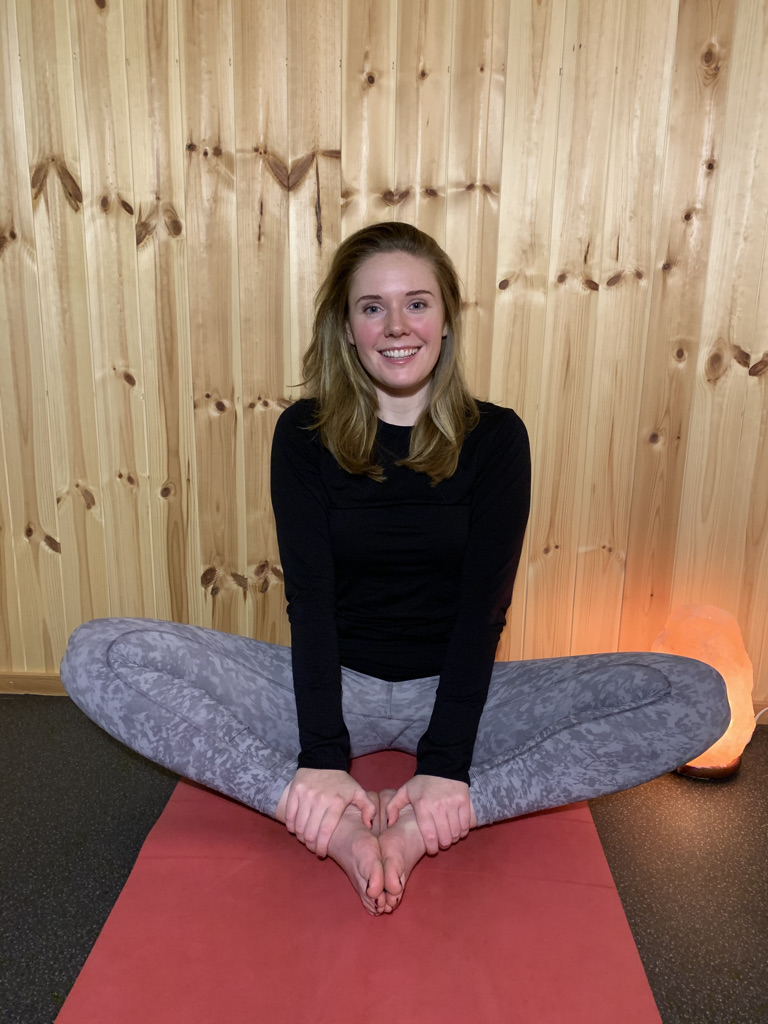 My name is Clodagh Finnegan, I am a 200hr Yoga Alliance certified Vinyasa Yoga teacher. I work as a secondary school maths and science teacher and I have a GymSTART level 1 coaching qualification with Gymnastics Ireland. Physical exercise and keeping the body active has always been of huge importance to me, be it through playing sports, dancing or doing gymnastics, I was always moving as a child and teenager. I spent my weekends while at university coaching gymnastics and always found the combination of strength and flexibility required for this sport fascinating. During this time I tried the odd yoga class here and there with my mother Carmel however, I always found it to be too slow moving for me. You could say this is when I first practiced yoga however, my mother will say I really took my first class when I was in her belly and she was attending yoga classes.
I continued to take the odd class, but still I wasn't completely captivated by the practice. It wasn't until I moved to Hong Kong in 2018 that I really fell head over heels for the practice of yoga. I was living and working in a new city where I knew very little people. The job I was doing was a lot more challenging and mentally demanding than anything I had done before and I was finding myself to be quite anxious and stressed. I decided to join a yoga studio there which charged a monthly fee for unlimited classes. I started going once or twice a week to get myself away from my work for just an hour in the evenings. Very quickly I found myself taking classes everyday and sometimes even twice a day on the weekends. It was an hour of my day where I was so present in the moment and all I thought about was my practice. I was hooked!
In the beginning it was all about the really strong physical classes that leave you feeling you've just done a cardio workout, but as I attended more classes I found myself looking for not just the strong practices but also the slow gentle practices too. Eventually moving towards the meditation classes also. I really do believe that there's days when our body needs that strong vinyasa flow class but also there's times when we need to slow down and practice a more restorative class. Wanting to learn more I traveled to Bali in February of 2020 (luckily just before the pandemic). I wanted to try different styles of yoga and learn from other teachers. I do believe it was here in the magical town of Ubud when I made the decision to expand my knowledge of yoga and undertake a yoga teacher training course. However as life was so uncertain at that time because of the pandemic I held off signing up for a course until the summer of 2020 when I moved home to Ireland.
In December 2020 I qualified as a 200hr Yoga Alliance certified Vinyasa Yoga teacher with Durga Yoga Ireland under the tutelage of Paula Mitten and Jenilee Toner and I loved every moment of it. I am delighted to join my mother Carmel and sister Naomi here at Swan Lane yoga where as a newly qualified teacher I feel so supported and guided. My classes are fun, dynamic and definitely challenging at times. Although they are very asana (physical postures) focussed there is a big emphasis on the importance of breath in the practice. In my classes I want people to feel safe, grounded, present, capable and challenged. In my classes I aim to share the beauty of yoga and my passion for yoga with others.
Clodagh